Octopus Research, Part 2
You can catch up on Part 1 here.

Presenting Our Information:
After we found all the facts we were looking for, I typed them up in simple sentences. "near the ocean floor" became "Octopuses live near the ocean floor." Then I cut each fact into strips so each student would have one fact to add to our nonfiction book. I don't have a lot of time, but it you do, you could have students write the sentences and practice some nonfiction writing.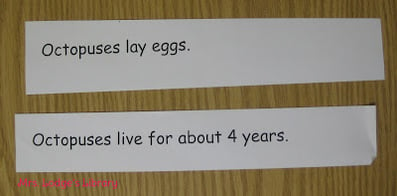 Each student had one sentence and one book page. We talked about how to make our picture match our words and got to work. The did an awesome job!

Adding Text Features:
Like I said, the timing of this project was great because the kids were learning about text features in the classroom. We talked about which text features helped us out when we were searching for information and reviewed the purpose of each. First, I guided them to choose chapters for a table of contents by grouping similar topics. I read groups of pages out loud and asked what the big idea was for each and they came up with the chapter titles.

The kids decided what words they thought might be tricky for other kids and we added those to the glossary, along with definitions. Then the kids who had those words went back and bolded the words with marker. I have a few kids who are really into science and they were very helpful when it came to writing definitions. I was so impressed with what they came up with!

The last text feature we included was an index. The kids chose the specific topics they thought readers would be looking for and we added the page numbers. We kept track of our sources and had an Our Sources page. Then the kids suggested titles and we voted to choose. This class chose "All About Octopuses" for their title. I am keeping the original in the library (with the octopus books, of course!) but I sent home black and white copies because I was so proud of their hard work.

On the Side and Up Next:
During this project, I introduced our iPads and had an iPad drawing center each week. I put out a different octopus assignment "Today I can draw an octopus", "Today I can draw an octopus's habitat", etc. The kids rotated and each had a few chances to use our drawing app.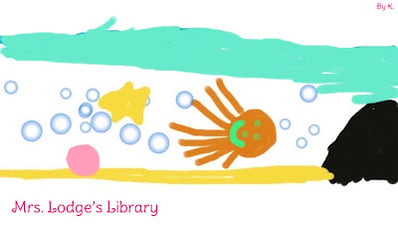 We have happy octopuses at our school.
They were able to practice using the app enough to feel confident with it. After our reading celebration, I hope to have these kids doing small group research. I would love to have them present information in a digital format using Drawing Pad and Book Creator apps, Storybird, or Little Bird Tales. I have seen Storybird used by Barrow Media Center, and Little Bird Tales by Matt B. Gomez. I've been following Andy Plemmons at Barrow Media Center for about a year now and LOVE so many things he does! I recently "found" Matt B. Gomez, a kindergarten teacher in Texas, via Pinterest and he's got amazing projects going on in his classroom.
If you have any other fun ways for little ones to share their learning, let me know!