Nonfiction Folders How-To
Did anyone else have April Vacation this past week? It was so nice to have a break and we have been having amazing weather in New England (except for today) all week. I hope anyone else who was off had a relaxing break!
Anyway, Library Lady had a few questions about the nonfiction folders in the last post. In case anyone else had the same questions, I put together a little how-to for the folders.
I used plain manilla file folders which we have plenty of at my school. I folded them like this: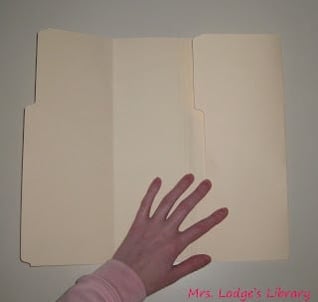 Open the folder all the way. Fold in one half to the middle line.

Fold the other side so the edges meet in the middle. If you like crisper edges, you can run a pen across the fold.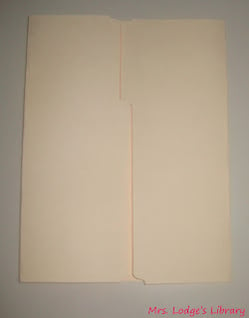 In terms of logistics, I have about 80 3rd graders so while it was a lot of folders to make, it wasn't terrible. I did a bunch while watching TV at home and I had one of my fantastic volunteers help with the rest. I don't have time to spend having the kids make them since my teaching time is 15 minutes-ish. If you have the time, I'm sure most kids could fold their own folders. I may also be mildly obsessive about things being straight and I like how all the folders are uniform on the outside. The insides are all over the place and definitely reflect a little bit of personality of each student.
For the insides, I looked at a lot of mini book and foldables online and decided which I thought would work best for my purposes. I made a template for each text feature.
Click here
to access the template in GoogleDocs. I used paint chips with cut outs for the Table of Contents so there are only TOC labels in the template.
I had students select a book from a cart of books I pulled and the one thing I would do differently would be one book per student. I had kids in different classes using the same books so I had to pull the right books for each class before the class came in (again - short teaching time made it worthwhile for me to have the books and folders ready to go so not everyone would have this problem). If they could just keep their folder tucked in their book, it would be great!