Penguins!
We just finished up a study of penguins in kindergarten! We started with Tacky whom the kids find hilarious.

Then, we read about Pierre the Penguin. If you aren't familiar with Pierre, he is a penguin who lives at California Academy of Sciences and whose molted feathers stopped growing back. Without his feathers, he was too cold to go in the water. One of the aquatic biologists who works with him thought to make him a wet suit to help him keep warm. This is the story of Pierre and his wet suit. It's very cute and it rhymes which my kindergartners always enjoy.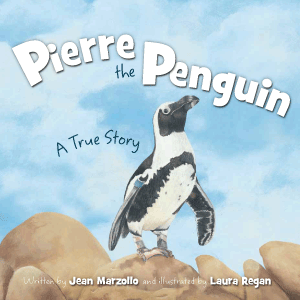 California Academy of Sciences has a live penguin cam here where you can see the penguins on land and underwater! Since finishing up this unit, I've bought a Tacky ebook app for my new iPads and downloaded California Academy of Sciences free Pocket Penguins iPhone app, which works on the iPads but is iPhone sized. I plan to incorporate both next year.

The last thing we did was look at a few different penguins in PebbleGo to learn more about them. This is my first year using PebbleGo and I absolutely love it! It's especially great for K-2 because it's so easy navigate and has a read aloud feature.

This is the first year I've had to plan kinder lessons. In my first district, there was a kindergarten building which the elementary librarians each visited one morning a week. We had a plan book on the desk with previous years' plans so everyone would be doing the same thing. Last year, I shared my library and only had 2nd-5th graders.

If you have any good kindergarten units or ideas, please share!