Puzzle Center
This center was also inspired by The Centered School Library. Be sure to head over there for many excellent ideas!


The Puzzle Center is by far my most popular center! Even more popular than any computer center I have. I had expected the kids to think it's fun but perhaps not nearly as exciting as some of the other centers I have. That is not the case at all! I have a 5 kid limit due to the space around the table and everyone races to get to the puzzle center!


This has been a really good community/collaborative center. The kids in each class work together on the puzzle but they are also working together with students at all grade levels to complete the puzzle. I even have teachers joining in to add a piece or two.


Set up: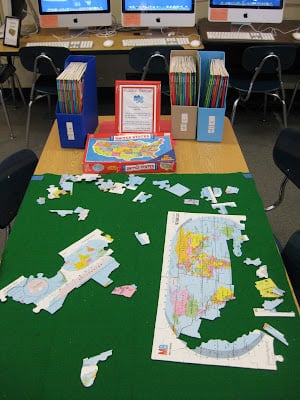 My Puzzle Center has the puzzle, instructions, and any books that go along with the puzzle's theme. This puzzle is a two sided U.S. and World map so I set out my states books.


I bought the puzzle mat from A.C. Moore that looks similar to this. It comes with a cardboard tube and elastics. This allows me to roll up the puzzle on Thursdays if it's not done. There's another library teacher in my school on Fridays for K-1st and she does not do centers, so I clean up the puzzle at the end of my week and put it back out on Mondays.


The kids love to see what the new puzzle is about. Right now I have a Harry Potter puzzle going on but I have done different animals, pirates, and Diary of a Wimpy Kid and the kids have been jazzed about each and every one.



Where I get puzzles:
I had a few puzzles at home since I enjoy doing them myself. I also dug through my parents' basement since I was sure there were some puzzles from when I was a kid (and there were!). I found a few good deals at The Christmas Tree Shop, Target, and the Dollar Tree. However, the BEST place I've found to get puzzles is Savers, a thrift store chain in my area. Every puzzle I've bought there has had all it's pieces, and the puzzles are $.69 to $2.99ish. I've bought a few really nice Melissa and Doug puzzles and even a few brand-new, never been opened puzzles there. Such a good deal!