"Microblogging" in the library
I have been blogging with my students and decided to introduce them to the idea of microblogging after seeing a few classroom Twitter walls on Pinterest. I made a Blurb wall on my library door using laminated sentence strips. I read somewhere (probably on Pinterest...I'm obsessed!) that you can use laminated paper with dry erase markers and decided to test it out - it works!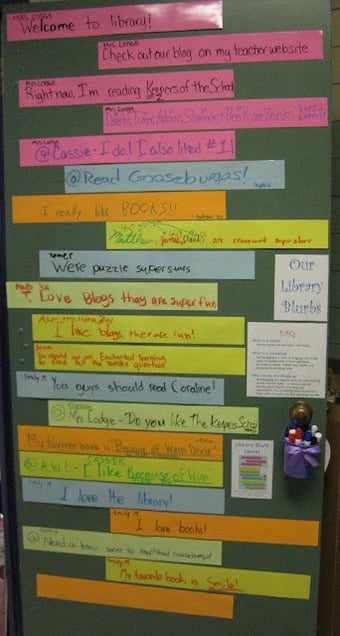 The pink strips are mine and all of the others are by the kids. Kids can stop by any time and add a quick blurb, as well as add blurbs during center time.
The neon colors are pretty in-your-face so the blurb wall has been catching everyone's attention. Classes wait right outside the door before coming into the library so it gives everyone something to look at if they have to wait. The blurbs have also been good advertising for the library. Teachers can see kids' enthusiasm for library, students' mini book discussions, and my news and announcements they might not otherwise hear.